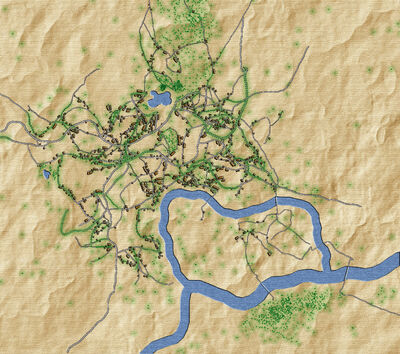 Write the first paragraph of your page here.
Timberchapel Ctiy
Edit
Timberchapel City is the Seat of Bendrick Tsjuder, BAron of Valengal sworn under Earl Baldassar Hart
Founding & History
Edit
TImberchapel was founded as a religious monastery but gre quickly in size due to sawmill and lumber operations in the area, The lumber from castmire was floated down the river and processed in the timberchapels sawmills, The wood was then shipped further down to sea for export or sent by caravan to the Mesa, Timberchapel was the domain of the Voulger family for many years until the family was largely destroyed in the Bleeding Hart conflict.
Military Garrison
Edit
Hart Regulars x 40
Halberdiers x5
Heavy Footman x5
Archers x5
Men at arms x5
Ad blocker interference detected!
Wikia is a free-to-use site that makes money from advertising. We have a modified experience for viewers using ad blockers

Wikia is not accessible if you've made further modifications. Remove the custom ad blocker rule(s) and the page will load as expected.